PRECISION OPTICS
Filters
Prisms
Lenses
Mirrors
Windows
Waveplates

Laser Optics

Beam-Splitters

Custom-built Products

Optical Parts Of Stock

LASERS

LASER ACCESSORY PARTS

CRYSTALS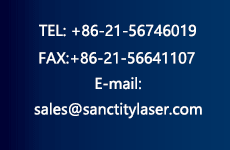 Shanghai Sanctity Laser

company has more than ten years experience in optical filed. We have a whole set of optical processing equipments, such as cutting, grinding, polishing, molding and coating. We are exporters of optical lenses for industrial and commercial use. Our chief products are Filter, Prism, Lens, Mirror, Windows, Waveplate, Laser optics, Beamsplitter and multiplicity coating.
High quality and low price is our most competitive advantage. Based in China main land, our products are currently sold in Europe, USA, South America, Middle East and Asia. We invite you to view our product catalog.Customized products are provided at any moment, Your further requests are also welcome. We believe that, through our continue effort , will become your reliable supplier and best cooperator of your business.
In developments in the future, we improvement business administration, product quality of perfecting, raise enterprise dynamics of servings constantly, With high, not fast efficiency repay the masses of old and new customers' care and support of our factory, Let us create brilliance side by side!